A Biography of Carmen Cereceda
by Wendy Oke
___________________________
Carmen Cereceda is one of the gifts in my husband's and my life.   She has been an   integral mentor in the promotion of Alma Rumball's automatic drawings.   She is responsible for our entering the Toronto art community and the introduction into the close circle of the Tibetan Buddhist spiritual circle.
We met Carmen in the mid 1970's. John Peowrie, a Toronto writer had commissioned a painting from her , and he felt Alma's works would impress the world-renowned mural painter, whose studio lay in the center of the Toronto art community, on Markham Street.   She was an intellectual and a professor of art at the Ontario College of Art.   She was a spiritual being, committed to the path of her master Kirpal Singh.
Carmen had studied Fine Arts at the University of Chile, her country of origin.   She later did research in mural painting at the National Polytechnical Institute of Mexico.   Her special talent and care for mural art was further developed while living in Mexico and working as an assistant to Diego Rivera while living with the maestro and Frida Khalo. Carmen completed Modern Mural studies in Mexico, with Jose Gutierrez.   Her work is done in the tradition of the great masters of mural painting.
In Europe Carmen worked with engraver Arnol Mohr in the Academy of Artists, Berlin.   She took courses in composition at the School of Fine Arts in Rome.   Her formative years abroad led her to conduct exhibitions in Brazil, Cuba, United States Spain, Italy, Algiers, U.S.S.R. and China.   She has completed murals in Mexico, Cuba, Chile and Toronto, Canada.
Following is the text accompanying the advertisement for   Carmen's mural in Toronto, in the foyer of the University of Toronto's Faculty of Dentistry, at 124 Edward St. (just east of University) It is by Eric Freifeld, Chairman, Department of Fine Arts, O.C.A..   The mural is entitled "The Ever Unfolding Earth Mother" and was completed between 1976 and 1978.
– "The author of this works is a remarkable artist, fully a master of her means."
Her profound knowledge of the technical elements of art:   composition, drawing, colour and a rare skill in the uses of her various media, are the harvest of many years of study in her chosen field of expression.
Throughout her formative years her exceptional talents, coupled with the vital and compelling nature of her personality, commended her to poets, painters and other intellectuals.   This brought her into the company of some of the world's most renowned artists.
Among these were David Alfaro Siqueros, with whom she formed a friendship and whose constant search for new materials and media to convey his own concepts was a spur to the young Cereceda to emulate him in this respect. She too has never ceased in the quest for ever more suitable media to express her ideas.   Currently plastic enamel is her favourite medium.
But the artist, Carmen Cereceda, is far more than the sum of her skills.   She is a person gifted with unusual perceptions, with innate spiritual qualities, and one whose poetic and philosophical prescience find their highest expression in her art.
Carmen has a great deal to say about our Universe as her artist's eye and heart perceive it.   It is what she has to say about life and all living things that matters.   Her provoking vision, endlessly resourceful and rich in esthetic sensibilities, marks her out as the brilliant and unique artist that she is."
At the time we met Carmen she was teaching at the Ontario College of Art, giving classes in composition, painting and mural art. She had taught there for seventeen years. In her own terminology, she identifies the movement to which her painting belongs as Realismo Magico, or Latin American Magic Realism.
The following description of Magic Realism comes from an article by Jane Evans in regard to her commission for the Canadian Embassy Exhibition, April 1997, in Mexico City.   Jane resides in San Miguel d'Allende, Mexico, as does Carmen presently.
– European – American critics have labeled works of painters like Carmen and writers like Columbia's Gabriel Garcia Marquex "Magic Realism".   It is life in Mexico – the day full of night, life full of death, time warps, lunch on gravestones, saints in the kitchen, ghosts hovering overhead, witchery in the bedroom, colour and profoundly nostalgic smells everywhere – the magical continent.
Carmen says magic realists "see the reality, but with imagination. They reveal another dimension."
"Beginning in the 1920's writer, poets, painters, etchers, musicians, philosophers, discovered the face, the soul of Latin America.   They gave us our first portrait.   Like a sensitive and at the same time magical mirror, Latin American art reflected the rich racial and cultural variety of the continent:   her ancestral indigenous civilizations, her exuberant and monumental nature, the vitality of her communities, the dreams of her youth, the extraordinary magical ambiance."
– Jane Evans
Her source was often her dreams.   She also committed herself to her spiritual path, one of vegetarianism and celibacy, in accordance with the teachings of her spiritual guru/master, Kirpal Singh.   There appeared to be constant communication between the two, even after his death.
We were enveloped by Carmen's spiritual community and attended many soirees at her Markham St. studio,always peopled with intelligentsia, artists and mystics.   Repeatedly, individuals would analyze, interpret and 'channel' information regarding Alma's experience.
Throughout the 1970's we met people from the Findhorn Community so famous at that time for growing huge vegetables out of rock and sand in northern Scotland.   The devic kingdom was guiding and advising the Caddys and Dorothy Maclean on the planting of their magical world-renowned garden.   Nicholas Roerich, Russian mystic and visionary artist was featured at one of their meetings.
We were introduced to   local Toronto Yoga Centre devotees, Buddhists, lamas and mystics.   It was a fascinating time for us.   It was through Carmen that we were drawn into the Tibetan Buddhist community, when the Dalai Lama came to Toronto.   He was seeking the right spiritual location to act as asylum from the Communist Chinese invasion of his homeland, Tibet.   He ultimately settled in India.
We were taken by Carmen for a private audience with the spiritual advisor to the Dalai Lama, His Holiness Kalu Rinpoche.   He identified seven of the twenty drawings I showed him as Tibetan deities.   This was the turning point in the realization of the mission we had to fulfill as regards the messages in her drawings.   They were certainly beyond the normal range of comprehension and required years of searching for answers to the ever-increasing volume of questions.
While in Toronto Carmen completed more than thirty commissioned paintings over five years.   Her largest work was her mural . Comments on Carmen's "Mother Earth" mural follow:
– " Cereceda's mural is an affirmation of that something which joins all the parts of a perfect whole.   It is a celebration of Design.   Nature did not have its origins in the defective and incomplete, but in the integral."
– Darlene Madott
– "Carmen's mural is one artist's attempt to hold the macrocosm of life in microcosm.   The strength of her work is in her attempt at completeness.   It is a visual rebuttal to the incompleteness, the fragmentary quality of so much art current today. Because the artist has chosen for her theme the symbolic root of life itself and has so successfully achieved her end, she gives us the opportunity to experience a transcendency of vision within ourselves."
– John Peowrie
– "Her imaginative works always take you to a far away place, mush further than anywhere she has traveled.   She utilizes surrealistic elements to reach mystical heights that transcend the commonly visible reality."
– Clovis Zanetti, 1974.
For the occasion of the showing of Fiesta de Disfraces, The Masked Ball, in Mexico, 1999, Jane Evans wrote – "Cereceda believes that the ability to experience joy in the face of tragedy is the hope of mankind.   No one does that better than Mexicans.
Cereceda is a magic realist.   Magic Realism does not provide a mimetic image, but a simulacrum, a vague, unreal semblance.   Magic realism, virtual reality, computer art, performance art, Internet art are alternative forms that offer simulacra or alternative realities from which to choose for change. Change is what Cereceda is advocating.
Carmen continues in her work to stir us in a revolution of consciousness, political and artistic.
– Jane Evans, 1999.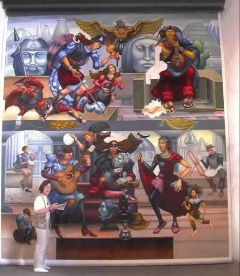 Carmen describes her own work thusly:
"The art of painting is a language of its own and words are not its vocabulary."
I perceive the constant presence of a spiritual bridge between this objective world and another more powerful and protective world, inhabited by essential and immediate truths, relating to our existence.   This is in essence what inspires me to create what I paint."
Carmen's philosophy was that art must make some political statement in order to have social import.   She said the one exception to her rule was Alma Rumball.